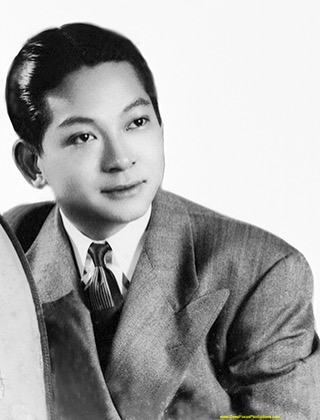 Cantonese opera performer Luk Wan-Fei 陸雲飛 was among the actors touring America during the late 1930s when the Sino-Japanese war escalated in their native Hong Kong. Stranded in San Francisco. Luk, along with Wong Hok-Sing 黃鶴聲 and Wong Chiu-Mo 黃超武, found employment at Grandview Film Company.
An established stage performer in Hong Kong, Luk's comedic skills became popular with audiences in the U.S., and he would appear in eleven films for the Chinatown studio. Luk returned to Hong Kong after the war and acted in a few films, but focused mostly on stage work, first in Hong Kong and later in the newly founded People's Republic of China. The Cultural Revolution, however, marked the actor as out of step with political doctrines, and Luk was subjected to arrest and humiliation until his death in 1968.
Please check back as we develop this story for Grandview Films: Cinematic Crossings with Joseph Sunn Jue.