TURHAN BEY, Actor
March 30, 1922-September 30, 2012, b. Vienna, Austria.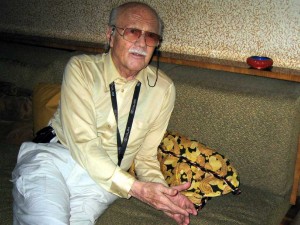 "Dragon Seed was a picture that played in one Chinese village. There was Katherine Hepburn, there was Akim Tamiroff, there was I, and there was Walter Huston. Akim with his Russian accent, Katherine with her New England accent, and Walter with a little bit of a Western accent – nobody cared!"
Turhan Bey was a popular 1940s Hollywood matinee idol, frequently cast in "exotic" roles, and often opposite María Montez. They appeared together in Raiders of the Desert, Arabian Nights, Bombay Clipper, White Savage, Ali Baba and the Forty Thieves, Bowery to Broadway, Follow the Boys and Sudan. In 1944, Bey portrayed a Chinese farmer opposite Katherine Hepburn in the MGM film, Dragon Seed.
JOAN CHEN –
陳冲

, Actress, Director

Born April 26, 1961, Shanghai, China.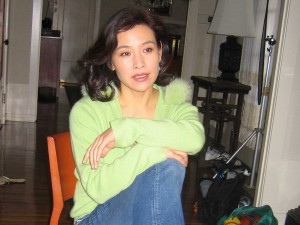 "As I get older, you've lost your youth and you're still trying to play that exotic flower, you know, and that was awful. If you live in LA, you had to work. And so I said, 'You know, I'm going to have to move away to be graceful.' If I didn't leave Hollywood, I would never have directed Xiu, Xiu."
Joan Chen grew up during the Cultural Revolution, and at age 14, the Shanghai Film Studio selected her for the Actors Training Program. There she was discovered by veteran director Xie Jin who cast her in his film, Youth (1977). She first became famous in China for her performance in Little Flower (1979) for which she won the Hundred Flowers Award. At age twenty, Chen moved to the United States where she studied film at California State University, Northridge. Her first Hollywood film was Tai-Pan (1986), and she went on to star in Bernardo Bertolucci's The Last Emperor (1988) and the David Lynch/Mark Frost television series Twin Peaks (1991). Joan Chen's directing credits include Xiu Xiu: The Sent Down Girl (1998) and Autumn in New York (2000), starring Richard Gere and Winona Ryder. Her most recent acting credits include Saving Face (2004), The Home Song Stories (2007), and Ang Lee's latest film, Lust, Caution (2007).
TSAI CHIN –
周采芹

, Actress

Born November 30, 1933, Tianjin, China.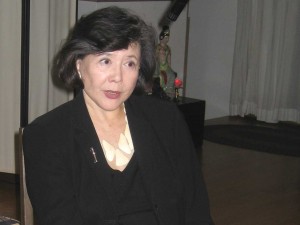 "I'm not particularly proud that I did these [Fu Manchu] films, but I did it. It's called, you know, something like food, that you need to eat! And if I do two, I'll be okay; I don't have to really work (laughs) very much because the scripts are always the same."
Born in China, Tsai Chin was the first Chinese to study at the Royal Academy of Dramatic Art in London in 1953. Six years later, she shot to stardom in the West End production of The World of Suzie Wong, playing the title role. During that time, she also cut records for the UK Decca Records label, notably "The Ding Dong Song", with lyrics by Lionel Bart set to a traditional Chinese song. Chin can be seen as Lin Tang, the diabolic daughter of Fu Manchu in a series of five films during the 1960s with Christopher Lee. Other early films include The Inn of Sixth Happiness (1958), You Only Live Twice (1967), and The Virgin Soldiers (1969). Recent credits include The Joy Luck Club (1993), Memoirs of a Geisha (2005), and Casino Royale (2006). On television, Chin has a recurring role in Grey's Anatomy as Helen Rubenstein, the mother of Cristina Yang (Sandra Oh).
STEPHEN GONG, Film Historian
Born April 5, 1952, San Bernardino, California.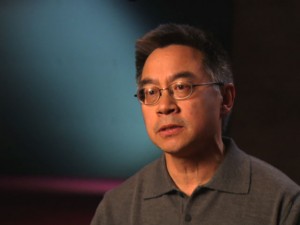 "Films are about image making. This is no small terms. It's the entertainment industry on one hand, but it's the way that our hopes, our aspirations, and our expectations of one another are played out on that screen."
Stephen Gong writes and lectures on film history, preservation, and media literacy. He is the Executive Director of the Center for Asian American Media, a media arts and public broadcasting organization in San Francisco. Previous positions include Deputy Director of the Berkeley Art Museum's Pacific Film Archive at the University of California at Berkeley, Program Specialist in the Media Arts Program at the National Endowment for the Arts, and Associate Director of the National Center for Film and Video Preservation at the American Film Institute.
JAMES HONG –
吳漢章

, Actor

Born February 22, 1929, Minneapolis, Minnesota.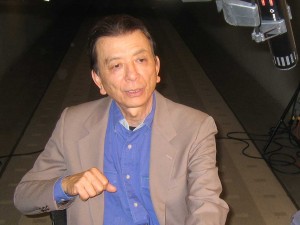 "Right now there're thousands of Kung Fu and martial arts studios – not that that's wrong, but it's an American trend. That feeds the video games, feeds the cartoons, feeds the studios, and the studios then call upon James Hong, Robert Ito, and Mako and all the rest of us to do Kung Fu masters. Let's say of all the roles I get, maybe thirty-five percent of those are old masters of one sort or another."
James Hong studied civil engineering at the University of Southern California but later became interested in acting. He got his first start in the dubbing business, providing the voice of Ogata and Dr. Serizawa in Godzilla: King of the Monsters! (1954). His earliest film credits include minor parts in Love is a Many Splendored Thing (1955) and Flower Drum Song (1961). In 1965, in response to stereotyped caricatures in the Vincent Price starrer, Confessions of an Opium Eater (1962), Hong helped found the Los Angeles-based East West Players, one of the first Asian American theatre organizations. Some of Hong's notable acting credits include Chinatown (1974), Blade Runner (1982), and Big Trouble in Little China (1987). He was a frequent guest actor in the television series, Kung Fu (1972-1975), and starred as the obtuse maître d' in the Seinfeld episode "The Chinese Restaurant." Hong has supplied the voices of Daolon Wong in the Jackie Chan Adventures TV series (2002-2004), Chi Fu in Disney's Mulan (1998), and Professor Chang in Teen Titans (2004).
DAVID HENRY HWANG –
黃哲倫

, Writer

Born August 11, 1957, Los Angeles, California.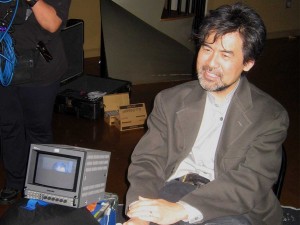 "This whole idea of trying to grasp the notion that someone can be Asian and American seems to be a difficult conundrum both for American culture as a whole, and then reflected within movies."
David Henry Hwang is a contemporary American playwright who is considered the preeminent Asian American dramatist in the U.S. His motion picture screenplays include David Cronenberg's adaptation of M. Butterfly (1993), John Madden's Golden Gate (1994), and Neil LaBute's Possession (co-written with Laura Jones and LaBute, 2002). He also wrote the teleplay for the NBC mini-series, The Lost Empire (2001). Many of Hwang's plays, including the Obie Award-winning FOB, focus on Chinese American and Asian American concerns in the modern day world. He is perhaps best known for M. Butterfly, which premiered on Broadway in 1988 and made Hwang the first Asian American to win a Tony for Best Play. Other work includes the text for Philip Glass' 1000 Airplanes on the Roof, the book for Elton John and Tim Rice's Aida (co-written by Linda Woolverton and Robert Falls), Walt Disney Company's theatrical version of Tarzan, and a radical revision of the Rodgers and Hammerstein musical, Flower Drum Song, which had its Broadway premiere in 2002. Hwang's newest play, Yellow Face, a comedy about the blurring of cultural identity, is slated for New York City's Public Theater in 2007.
NANCY KWAN –
關家蒨

, Actress

Born May 19, 1939, Hong Kong, China.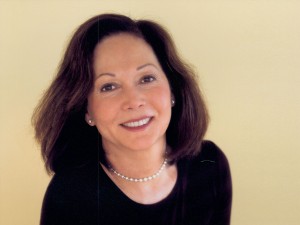 "I remember when Flower Drum Song first came out – every restaurant I went to I got a free Chinese meal because of it – they loved it. I still get young Asian actors coming up and saying, 'Nancy, we saw you and there were no Chinese actors in those days, singing and dancing, and you were hot!'"
Born to a Chinese father and Scottish mother, Nancy Kwan played a pivotal role in the acceptance of actors of Asian descent in major Hollywood film roles. Producer Ray Stark discovered her at the age of 18 and cast her in the starring role of a Hong Kong prostitute in the film adaptation of The World of Suzie Wong (1960). She followed up with the Rodgers and Hammerstein musical film, Flower Drum Song (1961) and soon became one of Hollywood's most visible Eurasian actresses. She subsequently appeared in over 40 films, co-starring with the likes of Pat Boone, Tony Curtis, Dick Van Dyke, Glenn Ford, Robert Goulet, Dean Martin, Brock Peters, Robert Stack, and Terry-Thomas. In recent years, Kwan played leading roles in stage productions of Love Letters and Who's Afraid of Virginia Woolf. For a younger generation of television viewers, Kwan may have been most visible as the infomercial spokesperson for her line of beauty products, Pearl Cream.
CHRISTOPHER LEE, Actor
May 27, 1922-June 7, 2015, b. London, England.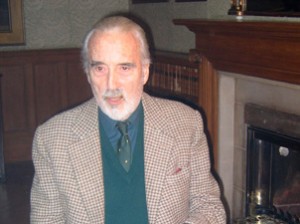 "I've had to play a lot of different nationalities. Europeans don't present a problem, but playing an Asian or an Oriental is a very different matter, very different – and it is probably the most difficult makeup to do really well."
Christopher Lee is best known for his portrayals of villains, including Count Dracula in a string of Hammer horror films, Francisco Scaramanga in The Man with the Golden Gun (1974), Count Dooku in Star Wars (2002-2005), and Saruman in The Lord of the Rings trilogy (2001-2003). In the 1960s, he played the maniacal Fu Manchu in a series of five films based on the popular Sax Rohmer novels.
ANG LEE –
李安

, Director

Born October, 23, 1954, Chaojhou, Taiwan.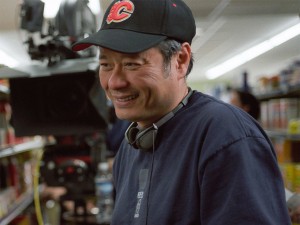 "There's complexity in life. It's just so easy to say 'That's Chinese, that's American, this is Hollywood, that's indie.' Things overlap, they're mixed up, and they have complexities. And I hope in the future, people just identify with individuals — individual filmmakers, stories, ways of filmmaking, and just see it as is and respect that."
Born in Taiwan, Lee came to the U.S. in 1979 to study at the University of Illinois at Urbana-Champaign and then enrolled at the Tisch School of the Arts of New York University. His NYU thesis film drew attention from the William Morris Agency, but it found Lee few opportunities and he remained unemployed for six years. In 1990, Lee submitted two screenplays, Pushing Hands and The Wedding Banquet, to a competition sponsored by Taiwan's Government Information Office and they came in first and second respectively. The resulting films from the winning screenplays made Lee a rising international star and he soon arrived in Hollywood to direct Sense and Sensibility (1995), and followed up with The Ice Storm (1997), Crouching Tiger, Hidden Dragon (2000), Hulk (2003), and Brokeback Mountain (2005), winner of the Best Director Academy Award®. Lee's newest film is Lust, Caution, a drama set in World War II Hong Kong and Shanghai.
JAMES LEONG, JR
September 29, 1934-July 14, 2013, b. Los Angeles, California
James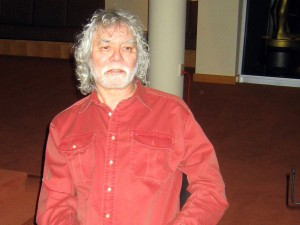 Leong Jr. is the son of James B. Leong, born in 1889 in Shanghai, China, producer and co-writer of the silent American feature, Lotus Blossom (1921).
"My father was very ambitious. I mean he made it from Shanghai, probably saw a movie there once or saw a lot of movies. And so, 'Where are they being made?' Well, Hollywood. So, okay, 'Let's go there!'"
James B. Leong was born in 1889 in Shanghai and immigrated to the United States in 1913. After attending school in Indiana, he arrived in Los Angeles and found work at studios such as Warner Bros., Samuel Goldwyn, Columbia Pictures, and Lasky Studio in a variety of capacities, including assistant director (uncredited) for D.W. Griffith (Broken Blossoms, 1919), technical advisor (Crooked Streets, 1920), interpreter (The Pagan God, 1919), and actor (The Purple Dawn, 1923). In his contract for the Thomas Ince Studio film, Cup of Life (1921), Leong was hired for "playing in the picture, doing technical work, getting types and any other duties that may be required." During those early years, with the financial backing of Chinese businessmen, Leong established James B. Leong Productions (also known as the Wah Ming Motion Picture Company). He independently produced and co-wrote a seven-reel, color-tinted costume drama, Lotus Blossom (1921). Only the fifth reel is known to exist today and it was donated by a private collector to the UCLA Film and Television Archive for restoration and preservation. Leong never finished another film, although a number of production stills and scripts documenting unsuccessful attempts exist. He continued to play minor parts in over 60 films into the early 1960s. He died in 1967.
JUSTIN LIN –
林詣彬

, Director

Born 1973, Taipei, Taiwan.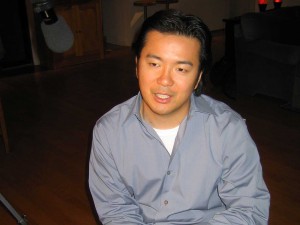 "I wanted to feel empowered as a filmmaker, I wanted to see characters on screen that were empowered. And by empowered I mean not having to explain to the audience why they needed to exist on screen, you know, 'Oh, we're Asian and we know karate!'"
Justin Lin rose from student artist to successful Asian American filmmaker in Hollywood. He earned an MFA in film from UCLA Film School and premiered his solo directorial debut, Better Luck Tomorrow (2002), at the Sundance Film Festival where it became the first film to be purchased by the then newly-formed MTV Films. It was a crossover hit and Lin followed up with Annapolis (2006), which scored mixed reviews from critics. But his next film, The Fast and the Furious: Tokyo Drift (2006), has grossed over 158 million dollars to date and Universal credits this film (along with The Break-Up) for helping the studio stay in the black in 2006. Lin's latest movie, Finishing the Game (2007), is an independent film that satirizes the production of Bruce Lee's final film, Game of Death.
LISA LU –
盧燕

, Actress

Born December 5, 1927, Beijing, China.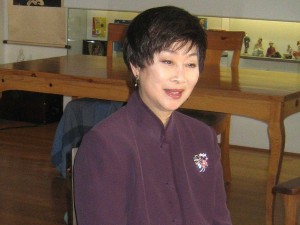 "You see, in Hollywood, all the Chinese girls look at the white men as if they are god."
Lisa Lu was active in Chinese opera before immigrating to the United States. Her first American film roles include China Doll (1958), The Mountain Road (with James Stewart, 1960), and Womanhunt (1962). Lu also appeared in numerous television programs, including recurring roles in Have Gun, Will Travel (1958-1961) and Hawaiian Eye (1960-1963). Dissatisfied with the parts offered in Hollywood ("I can tell you, I've played many bar maids, my very first film I was a barmaid!"), Lu returned to Asia in the 1970s to work in Chinese-language productions. She subsequently received three Golden Horse Awards for Best Actress in the films, The Arch (1970), The Empress Dowager (1975), and The Fourteen Amazons (1972). For the remainder of her career, Lu alternated between theater, film, and television, both in America and Asia. Today, English-speaking audiences best remember her for her roles in the films The Last Emperor (1987) and The Joy Luck Club (1993).
LUISE RAINER, Actress
January 12, 1910-December 30, 2014, b. Düsseldorf, Germany.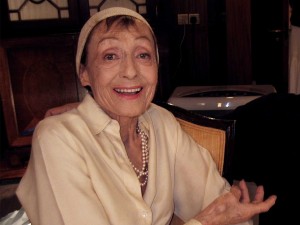 "I knew very little about Chinese people, and I thought, 'Human beings are human beings.' It's anyway an illusion, and if you are true to the character inside it's much more important than it has to be exactly right outside."
Luise Rainer made her first American film appearance opposite William Powell in Escapade (1935). Her next two films won her consecutive Academy Awards® for Best Actress, first for her portrayal of actress Anna Held in The Great Ziegfeld (1936) and next as O-Lan, a Chinese peasant in The Good Earth (1937). She became the first actress to win back-to-back Oscars. Disenchanted with Hollywood, where she later said it was impossible to have an intellectual conversation, she moved to New York City to live with her husband, playwright Clifford Odets. She made one more film appearance in Hostages (1943), and abandoned Hollywood in 1944 after she married her second husband, publisher Robert Knittel. She later appeared in a single episode of the television series Combat! (1965), and took a dual role in an episode of The Love Boat (1983). Rainer currently resides in London.
JAMES SHIGETA, Actor
June 17, 1929-July 28, 2014, b. Hawaii.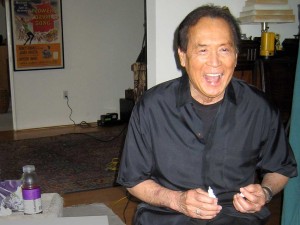 "Flower Drum Song is special because it portrayed a Chinese family who was not doing laundry; it just seemed like a refreshing change of pace from what you usually see of a Chinese family."
Born in Hawaii of Japanese ancestry, Shigeta's portrayals of Chinese characters include the films Flower Drum Song (1961) and Walk Like a Dragon (1960). For a time he was the biggest Asian American star America had know since Sessue Hayakawa, and holds the distinction of being the only Asian American actor groomed as a romantic lead during the waning days of the studio star system. Shigeta's other credits include the lead in Sam Fuller's The Crimson Kimono (1959), Paradise Hawaiian Style (1966), Midway (1976), and Die Hard (1988), where he was featured as the ill-fated corporate executive, Joseph Yoshinobu Takagi.
AMY TAN –
譚恩美

, Writer

Born February 19, 1952, Oakland, California.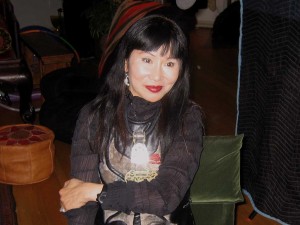 "When people started to express interest in making The Joy Luck Club as a movie, I was really concerned because my experiences were in part colored by what had happened in past with Hollywood movies. And it wasn't really until I met Wayne Wang that I knew I could trust him — I didn't have to say to him, 'You're not going to make it all Caucasian are you?'"
Amy Tan is an American writer whose works explore mother-daughter relationships and what it means to grow up as a first generation Asian American. In 1993, Tan's screen adaptation of her most popular fiction work, The Joy Luck Club, became a commercially successful film, co-written with Ron Bass. She has written several other books, including The Kitchen God's Wife, The Hundred Secret Senses, and The Bonesetter's Daughter, and a collection of non-fiction essays entitled "The Opposite of Fate: A Book of Musings". In addition, Tan has written two children's books, The Moon Lady and Sagwa, The Chinese Siamese Cat, which was turned into an animated series for PBS.
WAYNE WANG –
王穎

, Director

Born January 12, 1949, Hong Kong, China.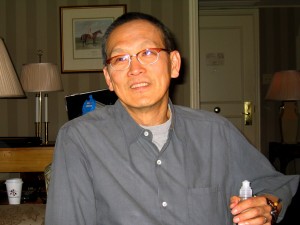 "I think there is a problem with Chinese American males overcompensating a little too much to be macho. Bruce Lee was such a h2 macho, heroic figure for them that they always want to see that kind of a character. And a lot of it comes from just being a Chinese American male and how Americans perceive them."
Wayne Wang was named after his father's favorite actor, John Wayne. At the age of 17, he emigrated from Hong Kong to San Francisco and studied film and television at California College of Arts and Crafts in Oakland, California. With a miniscule budget of $22,000, Wang completed Chan is Missing (1982), a black and white San Francisco detective story that also carefully dissected prevailing Asian stereotypes. This landmark independent film became a critical and commercial success and remains an inspirational touchstone for Asian American and independent filmmakers alike. Wang's subsequent films include a mix of studio and independent work: Dim Sum: A Little Bit of Heart (1984), The Joy Luck Club (1993), Smoke (1995), The Center of the World (2001), Maid in Manhattan (2002), and Last Holiday (2006). Wang's newest films, A Princess from Nebraska (2007), and A Thousand Years of Good Prayers (2007), are two tales about the experiences of Chinese immigrants in the United States and marks Wang's return to the low-budget filmmaking that made him a leader of American independent cinema.
B.D. WONG –
黃榮亮

, Actor

Born October 24, 1960, San Francisco, California.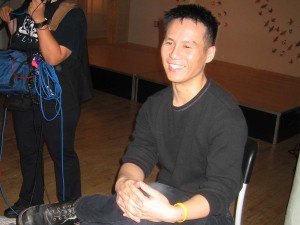 "I had a very high level of self-doubt and self-shame when I was a young boy. Part of this was because of the way I was portrayed in the media. I also discovered very soon into my childhood that I was gay, and it was a very similar war of self-acceptance that I experienced as a gay person as I did being Asian American."
B.D. Wong gained attention for his Broadway debut in David Henry Hwang's M. Butterfly as the communist spy-in-drag, Song. He is the only actor to have been honored with the Tony Award, Drama Desk Award, Outer Critics Circle Award, Clarence Derwent Award, and Theatre World Award for the same performance. Wong is probably most recognized for his roles as Dr. George Huang on Law & Order: Special Victims Unit, as Dr. Henry Wu in Jurassic Park, Howard Weinstein in Father of the Bride 1 & 2, and Ngwang Jigme in Seven Years in Tibet. He is also an author, having written a novel about his experiences with surrogacy entitled Following Foo: the Electronic Adventures of the Chestnut Man.
DAUGHTERS OF VIOLET WONG
Gala Davis, Marcella Wong-Yasuhiro, and Mai Lon Gittelsohn are the surviving daughters of Violet Wong, the main actress who appears in the newly re-discovered 1916-17 film, The Curse of Quon Gwon.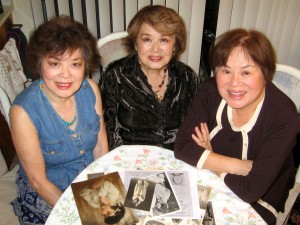 "Can you imagine Chinese making films then? Here?! And imagine going on location with all this gear in unfamiliar territory, and then a white sheriff goes, 'What are you doing here, Chinaman?!'"
The Curse of Quon Gwon is the earliest example of Asian American independent film known to exist today, written and directed by San Francisco native, Marion Wong. (Please see also, The Curse of Quon Gwon.)