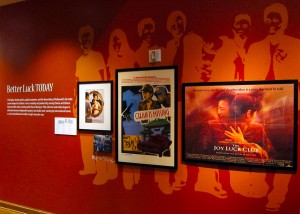 Hollywood Chinese: The Arthur Dong Collection is a groundbreaking exhibition of movie memorabilia collected during the ten-year research for Arthur Dong's documentary on the Chinese in American feature films, Hollywood Chinese. From the filmmaker's archive of over 1,000 items, a selection of posters, lobby cards, stills, scripts, press material, and other artifacts dating from 1916 to present-day offer vivid graphic examples of how the Chinese have been imagined in the movies during the last century. The show also chronicles the work of Chinese and Chinese American film artists through the decades who have struggled as well as triumphed in an industry often ignorant of race.
Hollywood Chinese: The Arthur Dong Collection spans over two gallery floors, organized into a series of themes, including a look at how cinema exploited the Chinatown mystique, films reflecting Cold War attitudes, Kung Fu films, and lobby cards from Mexico. On exhibit are iconic depictions from films such as The Good Earth, The Vengeance of Fu Manchu, Charlie Chan in Honolulu, and Flower Drum Song, and The Word of Suzie Wong. The "Pioneers" section includes items from the surviving archive of pioneer Chinese American filmmaker James B. Leong, who produced the 1921 film,Lotus Blossom, and rare production photos from the recently discovered 1916 film, The Curse of Quon Gwon, the earliest known feature film directed by an Asian American. On special display is the first Oscar® won by a Chinese American, the eminent cinematographer, James Wong Howe, for his work on The Rose Tattoo (1955).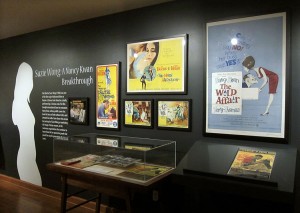 Blog-like quotes from Arthur Dong stream across gallery walls to offer a personalized dimension to this multi-sensory exhibition. Film excerpts, including the documentary Hollywood Chinese, are available in an interactive video station and projection wall. A schedule of public programs designed to provide visitors with a more in-depth understanding and enjoyment of the exhibition, including panel discussions, book signings and film screenings, will be offered through May 2010. A full-colored exhibition catalog featuring an essay authored by Academy Award®-nominated filmmaker Renee Tajima-Pena (Who Killed Vincent Chin, 1988) is available for purchase at the museum gift shop, as well as posters and DVDs of Hollywood Chinese.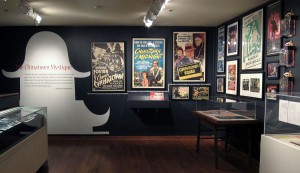 Filmmaker Arthur Dong is the Guest Curator for Hollywood Chinese: The Arthur Dong Collection. Major funding for the exhibition has been provided by the Academy of Motion Picture Arts and Sciences. The James Wong Howe Oscar® is on loan courtesy of Don Lee.
About the Chinese American Museum: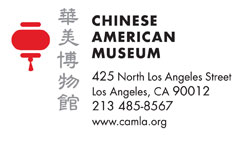 Located within the El Pueblo Plaza in downtown Los Angeles, the Chinese American Museum (CAM) is housed in the last surviving structure of the City's original Chinatown. CAM's mission is to foster a deeper understanding and appreciation of America's diverse heritage by researching, preserving, and sharing the history, rich cultural legacy, and continuing contributions of Chinese Americans.