Featuring
Turhan Bey, Joan Chen, Tsai Chin, Stephen Gong, James Hong, David Henry Hwang, Nancy Kwan, Christopher Lee, Ang Lee, James Leong Jr., Justin Lin, Lisa Lu, Luise Rainer, James Shigeta, Amy Tan, Wayne Wang, B.D. Wong, and the daughters of Violet Wong
荷里活華人
"Forget it, Jake, it's Chinatown."   –Chinatown, Screenplay by Robert Towne (1974)
Bruce Lee and Suzie Wong – mention "Chinese in Hollywood" and it's all about the exotic.
But it's not.
Hollywood Chinese is a captivating revelation on a little-known chapter of cinema: the Chinese in American feature films. From the first Chinese American film produced in 1917, to Ang Lee's triumphant Brokeback Mountain nine decades later, Hollywood Chinese brings together a fascinating portrait of actors, directors, writers, and iconic images to show how the Chinese have been imagined in movies, and how filmmakers have and continue to navigate an industry that was often ignorant about race, but at times paradoxically receptive.
Hollywood Chinese is produced, directed, written and edited by Academy Award® nominee and triple Sundance award-winning filmmaker, Arthur Dong (Licensed to Kill, Coming Out Under Fire, Forbidden City, U.S.A.), and presents eleven of the industry's most accomplished Chinese and Chinese American film artists who share personal accounts of working in film. Ang Lee, Wayne Wang, Joan Chen, David Henry Hwang, Justin Lin, B.D. Wong, Nancy Kwan, Tsai Chin, Lisa Lu, James Hong, and Amy Tan are among the storytellers who have wrestled with being the "other" in Hollywood.
Non-Asian personalities are also featured to point out the controversy over portraying the Chinese in yellow-face. Two-time Oscar® winner Luise Rainer (Good Earth, 1937), character actor Christopher Lee (Fu Manchu, 1960-65), and 1940s matinee idol Turhan Bey (Dragon Seed, 1944) give first-hand recollections on being yellow on the silver screen.
Hollywood Chinese is punctuated with a dazzling treasure trove of clips from over 90 movies, dating from 1890s paper prints up to the current new wave of Asian American cinema. Hollywood Chinese also unearths films long thought to be lost. During the documentary's production, filmmaker Arthur Dong was led to nitrate reels of what is now acknowledged as the first Chinese American film ever made, The Curse of Quon Gwon (1917). Directed and written by filmmaker Marion Wong, it is also one of the earliest films made by a woman and was recently placed on the National Film Registry by the Library of Congress.
At once humorous, maddening, and inspiring, Hollywood Chinese weaves a rich and complicated tapestry, one marked by unforgettable performances and groundbreaking films, but also one tainted by a tangled history of race and representation.
Hollywood Chinese DVD
Special Features (Only available on 2-Disc Collector's Edition):
Full-length theatrical version of Hollywood Chinese
A trio of Soundies including 1940s renditions of Chinatown, My Chinatown and Where's the Chicken in the Chicken Chow Mein, performed by white entertainers in faux Chinese settings. Soundies are short musical films produced in 1940-1947. A precursor to music videos, they were projected on coin-operated film jukeboxes in bars and restaurants.
A selection of 1900s paper prints from the Library of Congress collection, including That Chink at Golden Gulch, an early attempt by D.W. Griffith to portray a somewhat sensitive story about the Chinese in America.
A gallery of movie memorabilia from pre-1950s Hollywood films with Chinatown settings.
Trailers from The World of Suzie Wong and Charlie Chan Carries On
Newsreel footage from the 1961 premiere of Flower Drum Song in New York City and San Francisco.
Interview outtakes featuring the stars of Hollywood Chinese who offer extended dialogues on topics such as Anna May Wong, Charlie Chan, Flower Drum Song, Fu Manchu, Suzie Wong, yellowface, stereotyping, and the Chinatown mystique.
4-page color brochure, with filmmaker's introduction
Plus much, much more!
BONUS: The Curse of Quon Gwon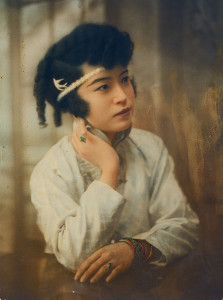 Produced in 1917, this is the earliest known feature film made by Chinese Americans. Restored and with a new original piano score.  More information…